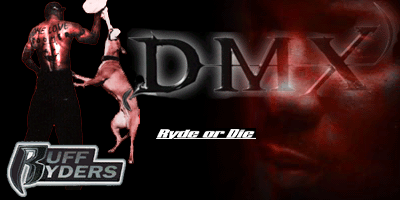 Join the Ryde or Die.com street team.today.
Help me, Willy, make this the best RR and DMX site on the net!
What You Do:
You basically help me out with my site in any way possible. There are different areas I could use help in.
1. Advertising/Promotion
You go around finding ways to get more people to come to the site. This is the official street team, you can do it in real life or on the net, whatever. DON'T go around spamming people or anything, but get Rydeordie.com featured on other sites. Make flyers and give them out to friends, whatever, just get the word out that Rydeordie.com is the hottest site on the net and help support it.
2. Media Compilers
Basically get me unreleased MP3's (nothing on any albums, get like freestyles and stuff) and stuff like that, I want music videos in MPEG or .mov formats, no real player or real audio or asf. This person probably needs a fast connection, like a cable modem or DSL and needs knowledge of things like Hotline, Carracho, FTP, etc, but it's not neccessarry. I also want help exploring ways to make these files accessible to the users of Rydeordie.com at fast speeds.
3. Forum Moderators
You hang out in the forums and make sure people don't act stupid, you start discussions, and most importantly you expand the usership of the forums. Help make the site more interactive, and help expand the base of loyal users.
4. Miscellaneous
Anything I forgot, anything that you think would be a good idea to help make this site better.
What you get:
You get the pride of saying you work at Rydeordie.com
You get improved chances at winning contests
You get first notice of anything, whether it have to do with the site or the RR Crew
You get exclusive content like free videos and music
You get to represent the hottest rap crew in the game over the net.
The more you do, the more you get, with this new Deal with Larsiny going down, who knows what benefits you could get, maybe you'll get to meet the Ruff Ryders, who knows? If you get this site big enough to get serious money coming in, you may get paid based on your eforts.
How to Join:
E-mail me here
Tell me what you are interested in doing and how qualified you are.
I'll write you back and tell you if you're accepted or not, hopefully you will be, good luck.