Interview Courtesy of MTV.com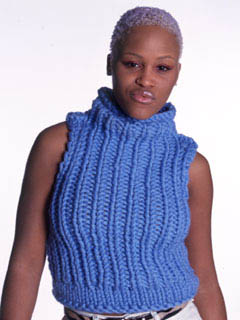 First, she gave New York's aggro Ruff Ryders clique ‹ led by irrepressible top dog DMX ‹ a touch of estrogen on their debut compilation, 1999's Ryde or Die. Six months later, the artist formerly known as Eve Jihan Jeffers dropped her first solo album, the chart-topping Eve ‹ Ruff Ryders' First Lady, and grabbed the spotlight with the sing-songy hit "Gotta Man."
But for Ruff Ryders den mother Eve, 22, one of the real high points of the past year was recording tracks with rap's red-hot überproducer Dr. Dre. She hooked up with Dre to record a pair of tracks for her second solo album, Scorpion (due out March 6), three years after the gangsta rap star gave Eve her first break on the "Bulworth" soundtrack.
Now the Philadelphia native is prepping an album she says she labored over much more than her hard-hitting debut. She's also joined by several members of the Marley reggae dynasty on Scorpion, as well as DMX, fellow Ruff Ryders the LOX and her boyfriend, R&B singer Stevie J.
Curtis Waller of the MTV Radio Network caught up with Eve as she was putting the finishing touches on the LP and found out why a head-clearing trip to Jamaica helped inspire some of the new songs and add more of a reggae feel to her rhymes.
MTV Radio: Compare working on Scorpion to your first LP.
Eve: Working on the first album was a little different then this time around. I was fresh out of the bag, I was just running crazy. The second album took a little longer just because I had to make sure I was extremely happy with everything. I had a lot more to do with this album artistically. I love the first one, but this one is grown-up. [laughs]
MTV: Was your increased involvement the reason it took so long to finish this album?
Eve: I think so. My tracks were done early. My music was finished. Writing is nothing for me. It was after I was finished that I took the songs and I listened to them over and over and over again. I said, "Something needs to be changed. The mixes aren't right, I could say this better, I could do my lyrics over, let's make a new hook." I just critiqued it a little more and tweaked it better. I had to make it so when it comes out, I'm not regretting anything.
MTV: Was there anything from the first album that you would have changed?
Eve: No, not one thing.
MTV: What's the meaning behind the title of the new album?
Eve: Q-Tip said I should name it Scorpio. I thought, "I don't really like that name, but it would be kind of hot because I am a Scorpio." That represents me, and I did want a name that represented Eve and who I am as a person. I thought Scorpion sounded feminine and strong also. Scorpios are known to be strong, very passionate, loyal, moody and jealous. I am every aspect of a Scorpio. It describes who I am, a Scorpio woman.
MTV: Do you pack a scorpion's sting?
Eve: I'm coming after anybody that feels like trying to get in my way. That's women, men, whatever. You'll feel the sting, believe me.
MTV: The first single is "Who's That Girl." Is that a reference to the Madonna movie?
Eve: No, it's not actually. I need to go get that movie, 'cause people keep asking me and I love her to death. But I didn't think about it until I did the song and people were asking me that question.
MTV: You worked with some producers outside of the Ruff Ryders on this album, including Dr. Dre and Stephen Marley. How did that work out?
Eve: The Marleys are just beautiful, peaceful people who are very into their work When I met them, I did a special with them for their father in Jamaica. Stephen sang a song and I was like, "You gotta get on my album." So that was a beautiful experience. Working with Dre, that was really fun. We work real good together and really fast. We were both excited to work with each other again, so that was a good experience, too.
MTV: What are your songs with the Marleys and Dre?
Eve: I have one song with the Marleys called "No, No, No." It's an old Dawn Penn song, a reggae song that I sang over. Stephen and Damian Marley are chanting on it. I chanted a little bit, plus I sang the whole song so it came out hot. I did three songs with Dre. Actually, I think only two of them are going to make it [onto the album]. One, Dre made me sing. I sang a hook and the first four bars on the second verse. I'm gonna let him title it. We have another song called "What," which is like a battle song.
MTV: What made you choose the Dawn Penn song?
Eve: I love that song. It's a classic and I wanted to sing something on the album, but I wanted to sing something that people could relate to. "No, No, No" is a song that people know ‹ white, black, even people who don't like reggae love that song. That's one of the songs that I told them I wanted to do a video for. Just to throw out there; it don't have to be a single.
MTV: Tell us about some more tracks on the album.
Eve: I have one with Teena Marie singing the hook, called "Living Life Is So Hard." It's like the song I had on the last album called "Heaven Only Knows." This song is about my transition from everything I've been through this past year. My relationship, how close I've gotten to God, things I've been through with friends. I'm thankful for everything, happiness or heartache. I take it as a lesson. We thought Teena Marie would be the perfect person to sing the hook, 'cause there's so much feeling in her.
Of course, I have a song with the guys, our street song. That's called "Thug in the Streets." I have a song called "Wake Up," which talks to people that are always complaining about the world but never do anything about it. I have a couple party songs, and the Dre song. It's a wide range. There's something on there for everyone, 14 tracks.
MTV: How is your relationship with Stevie J. now that he's coming out with an album?
Eve: Our relationship is great. I'm excited for him, and he's very excited. I'm behind him all the way. I pray to God it doesn't mess us up. We feel as if we have a strong bond and strong love. We'll have to wait and see what happens. I think we'll be all right. [laughs]
MTV: Are either of you featured on each other's project?
Eve: Stevie's all over my album. We sang something together, the Dre joint. We harmonized together. He produced a song called "You Had Me, You Lost Me." He sang on another one. He's all over the album. We have two other projects ‹ one on his album and one that came out on the "Girlfight" soundtrack.
MTV: There's been word that DMX has left the Ruff Ryders; he himself has said this. How has this affected the Ruff Ryders family?
Eve: He's still with us. I don't see it as leaving us, really. I see it as him branching out. He's a man with a family who is grown, and he wants a label. It's the next logical move and we're happy for him to be branching off. He's gonna be my dog for life. He's with me. It's still family no matter what.
MTV: So talk of animosity is just talk?
Eve: Right. There is none. A couple of people have asked me how I think it's gonna affect my album sales or other artists' album sales, and I don't think it's going to affect the Ruff Ryders at all.
MTV: What's up next for the Ruff Ryders camp?
Eve: My album, of course. Then Jadakiss is doing his solo thing. Then we have another compilation. Drag-On is coming, the Lox is coming. We've got some new artists. So there's a lot of stuff coming out from the camp
MTV: After your first album, the tour was crazy. There were points where you guys were reported to be just exhausted, working on the new album.
Eve: I experienced a lot of stress on that tour. It really took a toll on my body, my mind and my spirit. I had to take time just to get back into myself. It took a couple months to really get my mind right, to even be able to write a record. I went to Jamaica for a little while and chilled out. That's my favorite spot. When I came back, it was hard actually starting the album. It was hard for me to write because I had so many things on my mind; my emotions weren't right. But the writing helped me bounce back. So by the end of the album I thought, "I'm 100 percent right now. Yeah."
MTV: What will you do differently on the next tour?
Eve: Definitely, my bus is gonna be less crowded. I'm gonna eat better, way better. I wasn't taking care of myself. I am gonna exercise. I'm gonna keep my surroundings positive, 'cause they weren't last time. I am gonna try to keep everything as organized as it can be.
MTV: Tell us about your tattoos.
Eve: Oh, my dog paws. I got them as a dare, but they look good. It's just funny, 'cause I got with the Ruff Ryders and they call themselves dogs and I call myself the bitch of the litter. And it just stuck, like the paws were supposed to be there. It's my favorite tattoo ‹ or one of my favorites, anyway.
MTV: What are the other tattoos?
Eve: I have one on my lower back that I got after my first album. It's a scorpion and an apple with two Chinese symbols that say "strong female." That's my favorite one because that's Eve. I have a big flower on my right shoulder. I just got that one in Miami to cover up my first tattoo, a little Chinese symbol, that I got when I was 18. I have a tattoo on my right wrist and my left arm and I want another one, but my mother says to stop it. But I can't. I'm addicted, so I'll probably get another one.
MTV: Valentine's Day is coming up. What makes that day special for you?
Eve: Valentine's Day is very special now that I have a love. But I never really paid attention to it until I actually fell in love. Stevie said we're supposed to be going away, but we'll see. He said it's a surprise and I'm waiting. It will be nice even if we just stay home.
MTV: What would you like for Valentine's Day?
Eve: I know what I would like, but I don't want to say it. [laughs] Bling, bling.